Beyond AI. Technology and computing are becoming more and more alive, by incorporating functions of living systems such as intelligence, evolution, emergence, self-repair, self-reproduction, and learning. By researching at the boundary of science, fiction and art, we seek to explore future (speculative) scenarios at the intersection of biological life and artificial life, and to carry out research towards their practical realization. We use a bottom-up complex systems and artificial life approach to artificial general intelligence. When we refer to artificial intelligence we do not mean smart algorithms, rather we mean artificial systems that have cognitive capabilities similar to those of living beings.

Our lab is located at the Dept. of Computer Science, and it is part of the OsloMet AI Lab.

Join:
Three MSCA IF post-doc positions in Artificial Life, Artificial Intelligence, and ALife art..
We accept visiting researchers. Send an email to stefano.nichele@oslomet.no.
We mentor students on research projects, bachelor and master thesis at the intersection of living technology, artificial life, artificial intelligence, robotics, computational neuroscience and art. We expect to produce some sort of tangible results by the end of the mentorship period, for example a research paper, a poster, or a demo/presentation of the project. Interested? Send an email to stefano.nichele@oslomet.no.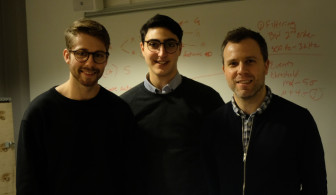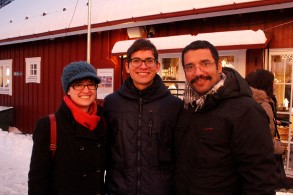 Current Members:
Principal Investigator:
Post-doc:
PhD Students
Sidney Pontes-Filho, Evolution of discrete dynamic systems for modelling computational systems based on self-organization through local interactions. 2018 (ongoing).


Kristine Heiney, Self-Organizing Models of Artificial learning in neural substrates, toward strategies to restore perturbed dynamics. 2018 (ongoing).
External PhD Students co-supervised
External Master Students co-supervised
Kristoffer Olsen, UiO, Towards and Environment for the Evolution of Artificial General Intelligence. 2019 (ongoing).
Collaborators
Kristin Bergaust, art collaborator, Dept. of Art, Design and Drama, OsloMet.
Alex Alcocer, robotics collaborator, Dept. of Mechanics, Electronics and Chemical Eng., OsloMet.
Ioanna Sandvig, neuroscience collaborator, Dept. of Neuromedicine and Movement Science, NTNU.

Alumni:
Master Students
Magnus Poppe Wang, NTNU, Evolving knowledge and structure through evolution-based neural architecture search. 2018-19.
Erik Wiker, NTNU, Reducing the search space of neuroevolution through montecarlo tree search. 2018-19.
Haakon Haraldsen Roen, OsloMet, Investigating the transversive potential of research through practice at the intersection of art and IT. 2018-19.
Benjamin Bocquillon, ISEP Paris (internship), Swarm robotics for evolutionary art. 2018.
Erik Aaron Hansen, OsloMet. Achieving Connectivity Between Wide Areas Through Self-Organising Robot Swarms Using Embodied Evolution. 2018.
Khagendra Basnet, HiOA. IoT based temperature sensors monitoring for smart workload distribution on cloud systems. 2017.
Muhammad Qammar Shehzad, HiOA. Autonomous and Self-Organisisng IoT. 2017.
Santosh Nepali, HiOA. Evaluation of GPU-based cloud solutions (deep learning in the cloud). 2017.
Ramesh Upreti, HiOA. Evaluation of Internet of Things solutions with cloud analytics. 2017.
Tony Chau, NTNU. Gesture control with electromyography and deep learning. 2016/17.
Andreas Molund, NTNU. Deep Reservoir computing using Cellular Automata. 2016/17.
Magnus Gundersen, NTNU. Reservoir computing using parallel Cellular Automata reservoirs. 2016/17.
Mathias Ose, NTNU. Cellular Automata development with CPPN-NEAT. 2016/17.
Peter Aaser, NTNU. Investigating in-vitro neuron cultures as computational reservoir. 2016.
Sindre Fjermestad, NTNU. Modeling of neuronal structures with CA-HyperNEAT. 2016.
Kristian Normann, NTNU. Computation-in-materio: Computation with Light in Amorphous Silicon Solar Panels. 2016.
Emil Taylor Bye, NTNU. Investigation of Elementary Cellular Automata for Reservoir Computing. 2016.
Sigve Sebastian Farstad, NTNU. Evolving Cellular Automata in-Materio. 2015.
Tom Glover, NTNU. An investigation into Cellular Automata: The Self-Modifying Instruction-Based Approach. 2015.
Caroline Sæhle, NTNU. Evolvability of Instruction-based Random Boolean Networks. 2015.
Andreas Giskeødegård, NTNU. Inkrementell Vekst av Genomet for Evolusjon av Genotype Representasjoner for Kunstige Cellulære Organismer. 2013.
Gonzalo Alsina, NTNU. Analysis of Cellular Machines, Artificial Development and Artificial Evolution. 2013.
Håkon Wold, NTNU. Can Genome Information be Used to Guide Evolutionary Search? 2013.
John Anthony, NTNU. Using Genome Parameters to Predict Structural Complexity in Artificial Organisms. 2012.
Bachelor Students
Ilham Jilani, Danial Afzaal, Yassin El-Barkani, Niman Yusuf, Pepper robot at the library. 2019.
August Reinholt, Jan Andre Fagereng, Kim Mikal Torp, Øyvind Innvær Mjelstad, Anomaly detection of production data (in collaboration with Skatteetaten). 2019.
Joachim Berg, Gustav Berggren, Arqam Sajid, Ruben Jahren, Sivert Borgeteien, OsloMet. Evolved art with transparent overlapping and geometic shapes. 2018.
Nikolai Sveum Hopland, Vako Varankian, Mona Heggen, Sondre Rosenborg. Developing a proof of concept for Softbank Robotics Pepper with an emphasis on tracking and repositioning system and camera vision using CNNs. 2018.
Research Assistants
Vako Varankian, OsloMet. Humanoid robots and swarm robotics (development and public relations). 2017-19.
Christina Eline Ellingsen. OsloMet. Coordinator of Living Technology Lab. 2018.
Stephanie Hoebeke, OsloMet. Visualization of Random Discrete Color Sampling, artistic exhibition. 2018.
Haakon Haraldsen Roen, OsloMet. Artificial Life - Swarm Robotics Performance, artistic exhibition. 2018.
Åsmund Røst Wien, HiOA, Pepper robot AI, IBM Watson, 2017-18
Jonas Ege Carlsen, HiOA, Pepper robot AI, IBM Watson, Speech-to-text and Text-to-speech, 2017-18